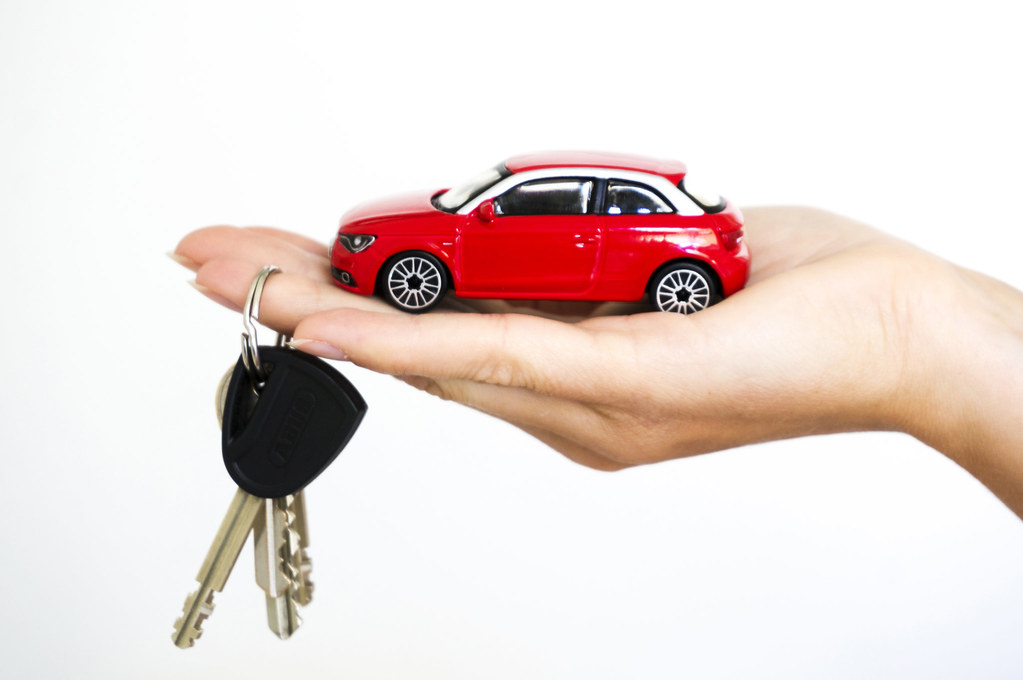 Besides a house, a car can be considered as one of the few prized possessions owned by a typical Singaporean. A car is a machine of convenience that can bring us from place to place. Yet, with its skyrocketing price, it is becoming harder for Singaporeans to purchase a brand-new car. Hence, many have considered the option of buying a used car. Purchasing a used car brings its own set of concerns and if you are one of the many that have decided to take that path, fret not!
Here is a checklist of 5 things to look out for when purchasing a used car. So, sit back and relax as we bring you through these points.
#1: What's your budget?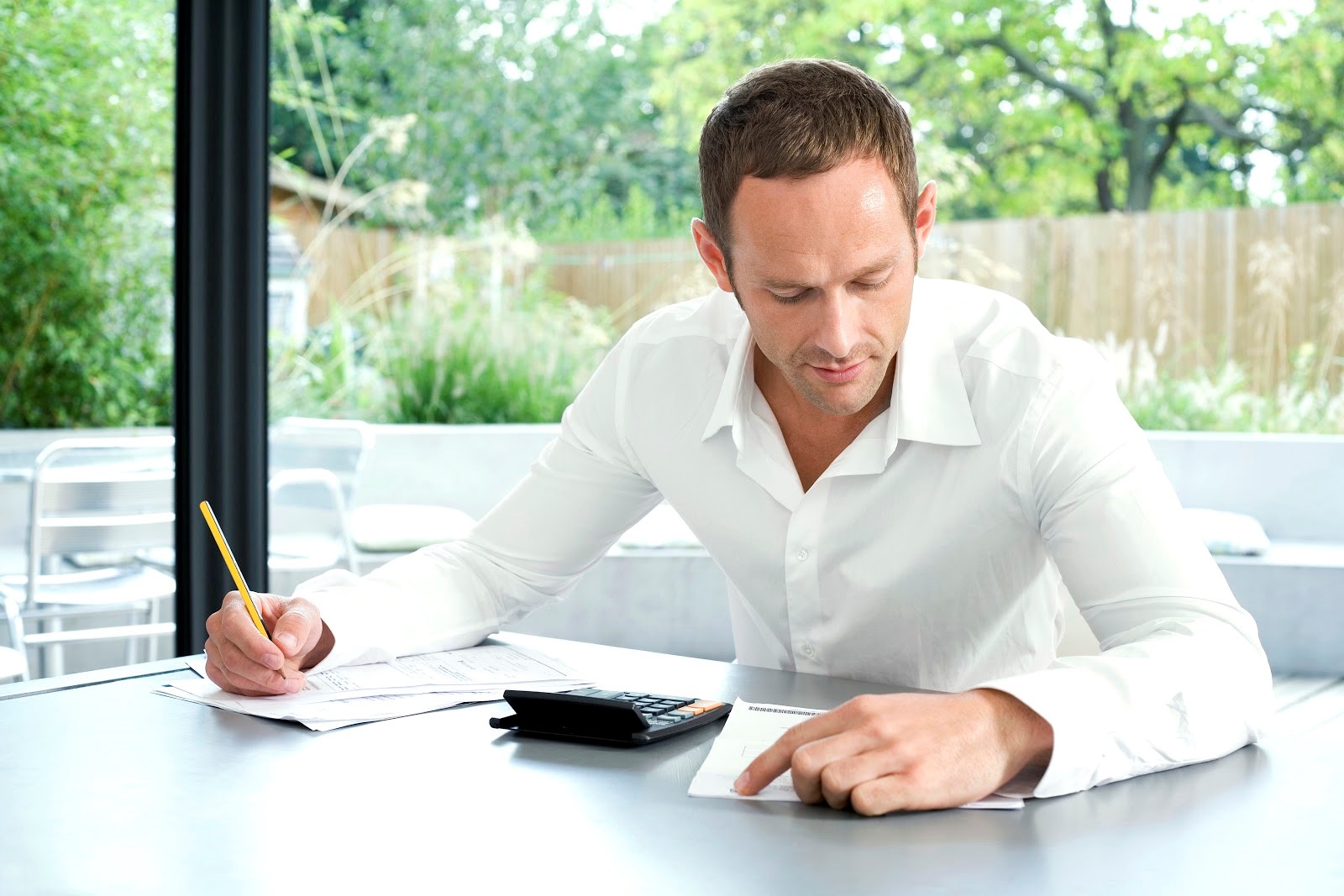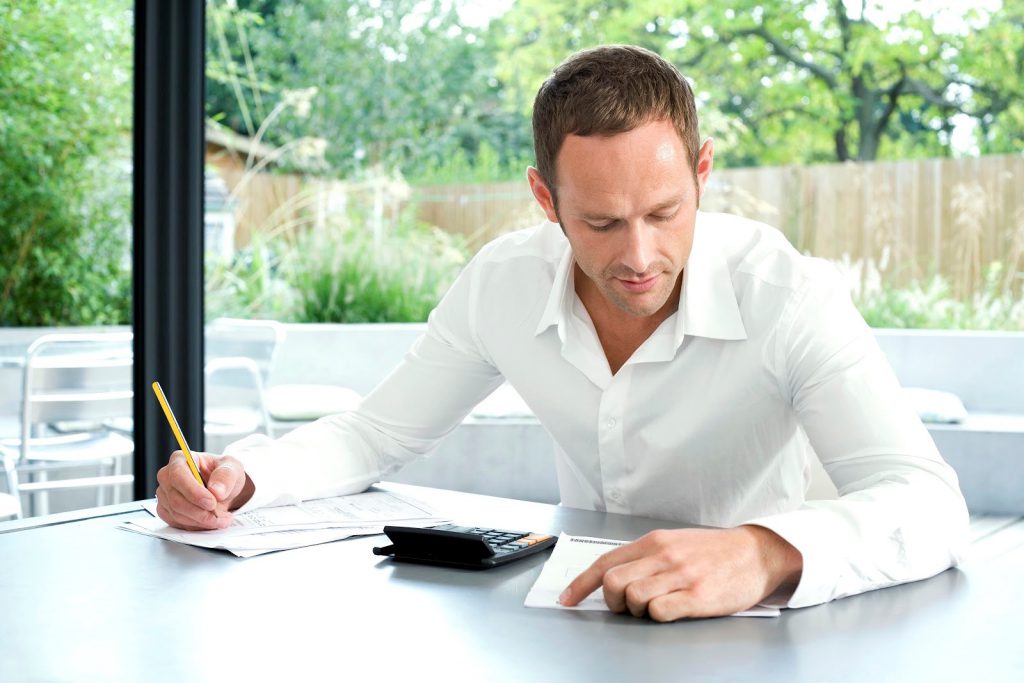 Before you even consider getting a car, it is important to work out your budget. One has to put many factors into consideration. For instance, the purchase price of the car you want.
You would also want to pay close attention to any hidden costs involved when purchasing a used car. Maintaining a used car could be a costly matter particularly if it is in a poor condition or not well-maintained. Maintenance and servicing costs vary on factors such as the car's mileage, engine capacity and whether the car is from a luxury brand. For example, the cost of maintaining a Volkswagen New Golf 1.4A is estimated to be around $1,280 per year which may include things such as regular oil change and tire change.
Annual road tax is another aspect. Do take note that there is a difference between the road tax for Preferential Additional Registration Fee (PARF) and Certificate Of Entitlement (COE) cars. The former tend to be lower while the latter tends to be higher. For COE car owners, you need to pay an additional road tax surcharge inclusive of the original road tax. Below is a table to give you a better understanding of how it is calculated:
| | |
| --- | --- |
| Age of Car | Additional Road Tax Surcharge |
| > 10 years | + 10% of Road Tax |
| > 11 years | + 20% of Road Tax |
| > 12 years | + 30% of Road Tax |
| > 13 years | + 40% of Road Tax |
| > 14 years | + 50% of Road Tax |
If you want to find out exactly how much road tax you need to pay, websites such as sgCarMart, Land Transport Authority, STCars and OneMotoring have a road tax calculator function to help you in the calculation via vehicle registration number or engine capacity.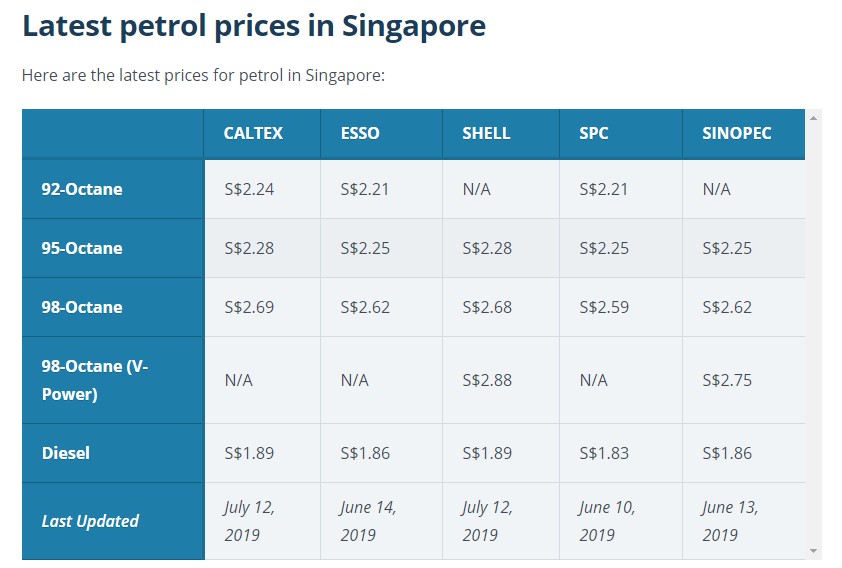 When considering petrol prices, one can first look at websites such as the one shown above. These are the latest petrol prices (per litre) in Singapore. If you are a first-time car owner, it is important which petrol station to go for. For instance, a Honda Civic has a fuel consumption of 16.9km/litre. Putting into account that an average private car clocked 16,700km per year, this will amount to an estimated 82 litres of petrol per month. Using 95-Octane petrol, for example, would incur monthly petrol costs of S$184.50 per month. Buyers can use this illustration as a reference to calculate the petrol costs involved for their used car.
#2: Where to purchase your car?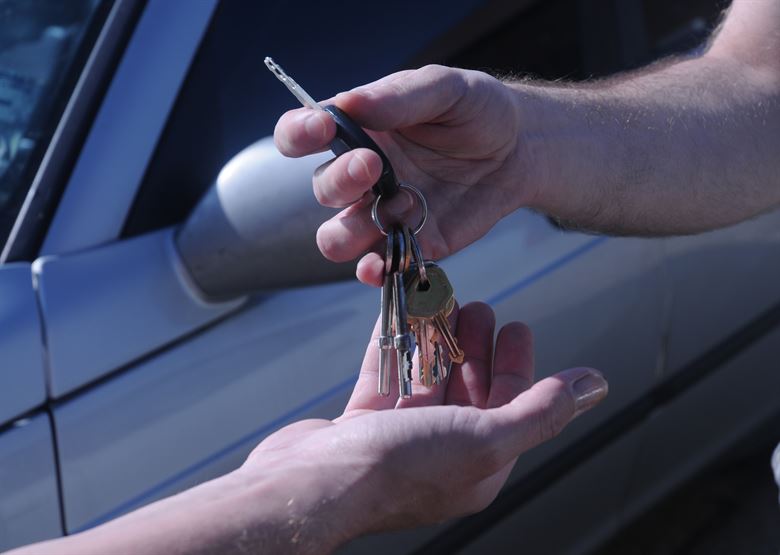 There are available channels for you to purchase a used car. An option could be an authorized car dealership. This could be a safe option because they tend to be well known and highly reputable in the public. In addition, you are protected under the Lemon Law which means you can claim for a defective product within 6 months of purchase.
Another option could be purchasing directly from a seller. Without the middleman, like a car dealership, the used car could be about 5-10 per cent cheaper and you will not need to pay any admin fees. You will have a lot of flexibility when negotiating with the seller and speaking to them directly. Yet, this also means that you and your seller will have to settle all the paperwork such as handover documents, car insurance and car loan which could be a real headache. If you would like to reduce the hassle, you approach places such as carro.sg and sgCarMart Connect where you will get all the relevant paperwork settled worry-free.
There are also many online car marts that you can patronise in Singapore. As seen from the picture below, car mart websites will give you a more detailed piece of information about the car you want to buy so that you will be able to make a more informed decision.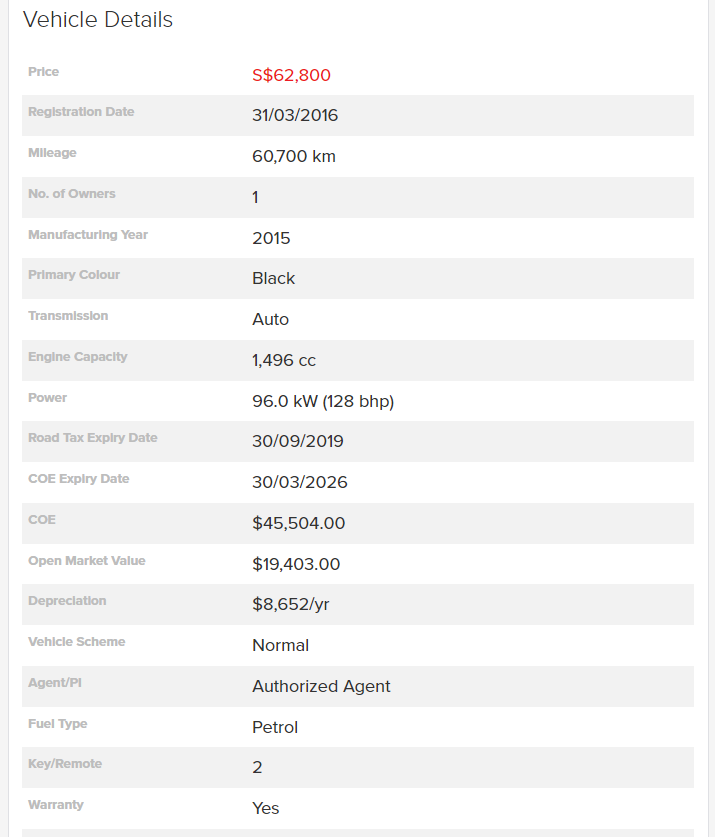 Source: here
Some online car marts that you can consider would be motorist.sg, Carro and OneShift.
#3: Which Type Of Car Insurance are you looking for?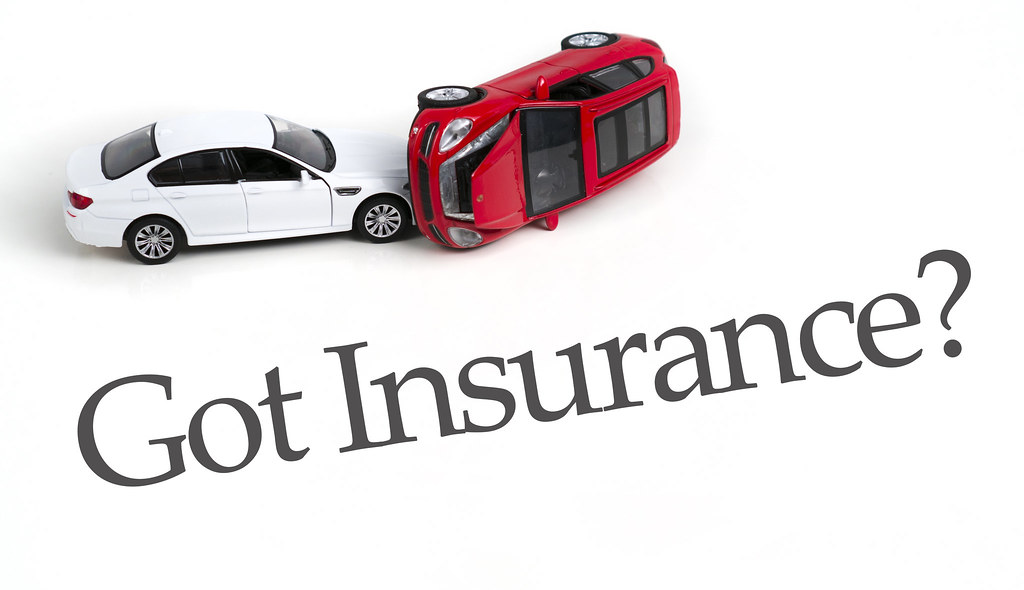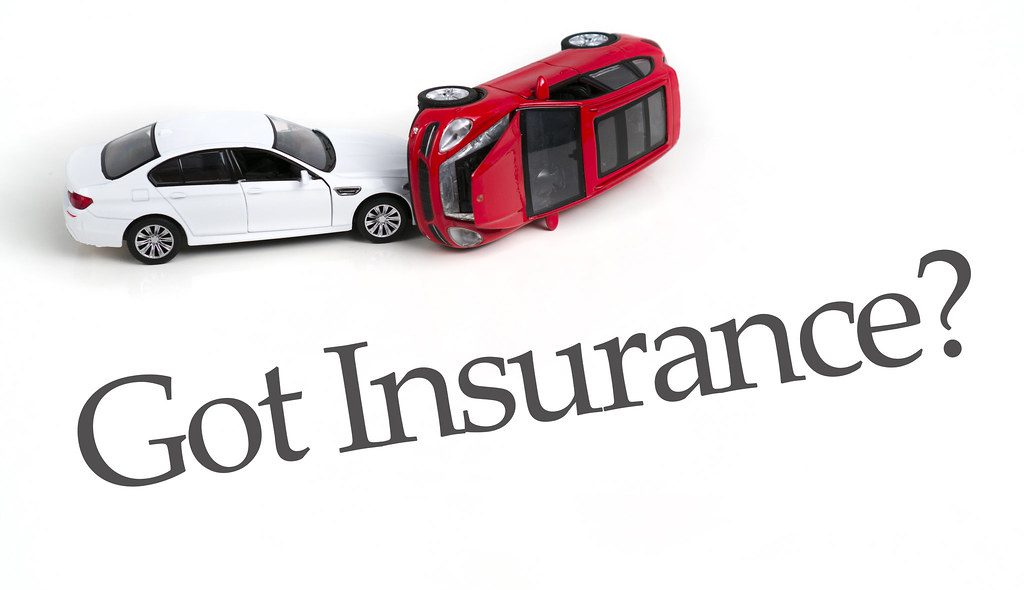 Whether you own a used or new car, car insurance is a must-have for car owners in Singapore. For buyers of used cars, you are technically not allowed to buy over your seller's insurance policy. You are therefore obliged to look for other insurance plans offered by different providers.
There are basically three types of car insurance:
1) Comprehensive car insurance – Covers almost everything including car repair and replacement costs.
2) Third-Party Only (TPO) car insurance – Covers only damages to the other party or their property. This is the cheapest and most basic type available, suitable for cars at the end of their COE lifespan.
3) Third-Party, Fire & Theft (TPFT) car insurance – Offers similar coverages as TPO, just that TPFT covers loss, theft and fire damage to the car. This type is generally suitable for older cars.
Car insurance premium to be paid depends on several factors such as your age, driving experience, occupation and marital status. There is also something called "excess" which helps to lower your insurance premium. It refers to how much you will have to pay out of your pocket before the insurer forks out the money.
Below shows some of the cheapest car insurance options: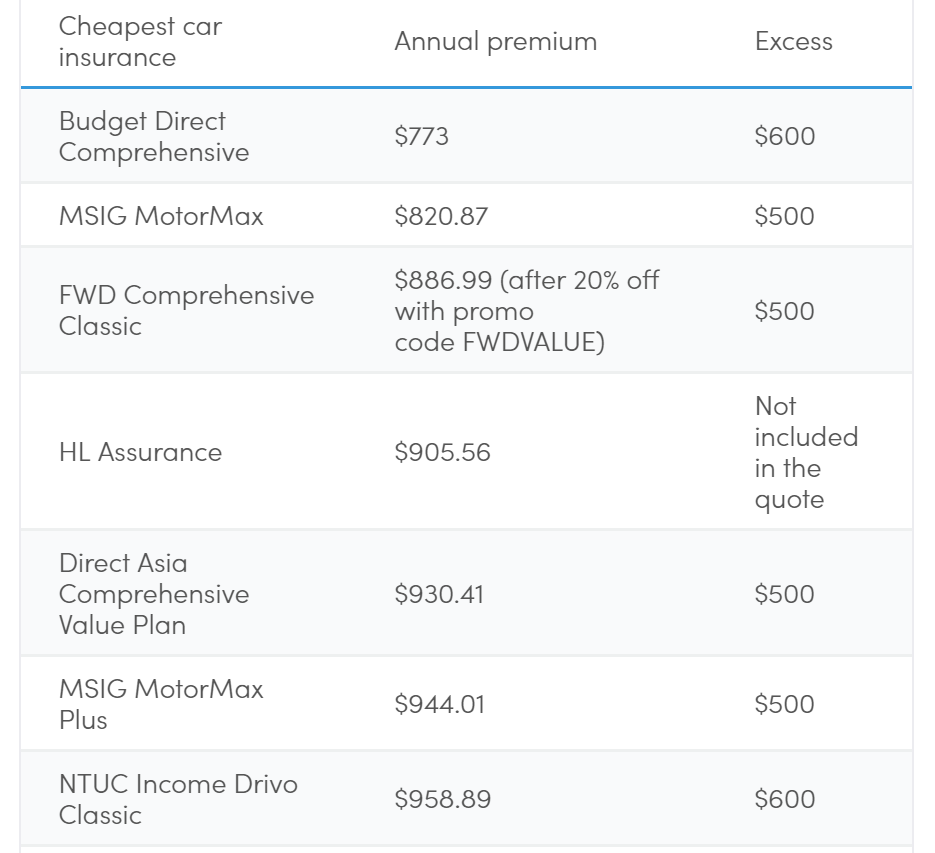 Source here
While you have the option to increase/decrease the excess, it may not necessarily serve to your advantage. Having a lower excess may cause you great pains in paying a high premium. Having a high excess would give you less protection in the event of an accident.
If you drive your car to Malaysia on a regular basis, you can find out which insurance package offers this as part of the plan or opt for an overseas coverage add-on. NTUC Income Car Insurance, for example, offers the Malaysia coverage extension. This add-on would, particularly, suit drivers with a family as it covers any named drivers and passengers. DirectAsia's comprehensive car insurance provides coverage when you are driving to Malaysia as well. This, however, is part of the package rather than being offered as an add-on.
#4: How will you finance your car purchase?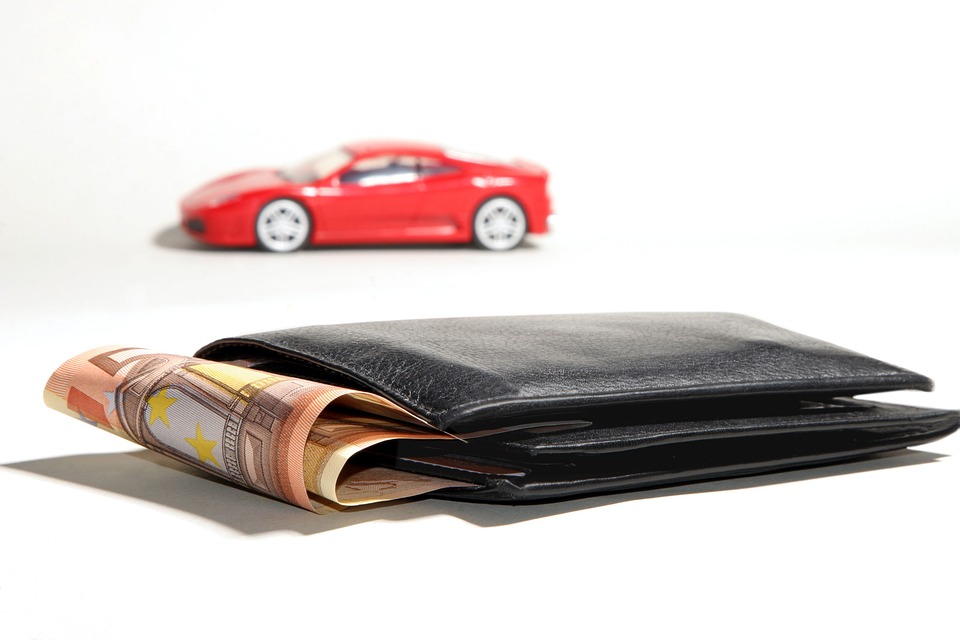 Financing your car purchase can be a complicated process. It will help to ease the complication by understanding some facts. In Singapore, most purchase their cars through loans. These loans are charged with interest rates at a flat rate which calculates interest based on the amount of money a borrower receives at the beginning of the loan. In The Car Regency, for example, we offer used car loans starting at 2.78% interest rate per annum and taking into account your credit status.
How much you can borrow could also depends on the car's Open Market Value (OMV). For example, if a car's OMV that you plan to purchase is $25,000, you can borrow up to 60% of the purchase price.

If you would like a better picture of your car financing process, there are various sites that have a loan calculator function such as the one above. You will be able to find out exactly how much of monthly instalment you will have to pay by checking the amount you are intending to borrow to purchase the car, the loan tenure and the interest rate charged by the borrower.
Additionally, you can also calculate your budget for your preferred car based on how much instalment you would like to pay monthly and how much you are willing to pay upfront when you purchase the car.
#5: What is the condition of the car?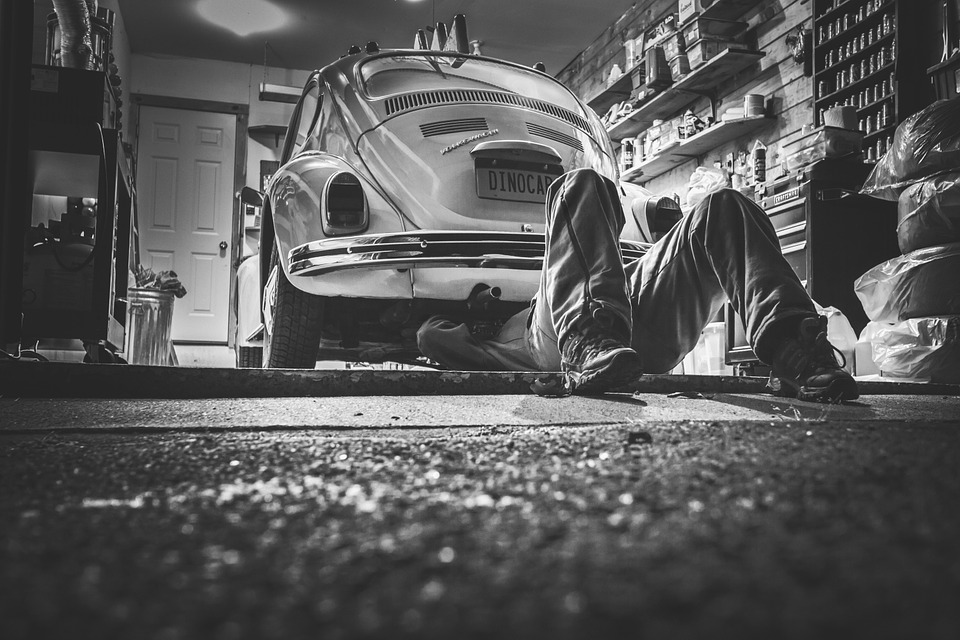 It pays off to be detail-oriented when it comes to checking the condition of the used car before you get your hands on it.
For instance, looking out for signs that the used car was once involved in an accident could help to prevent the need to face potential issues with the car in the future. You can observe the car's paintwork in a well-lit location to look out for any inconsistency in the paint colour whether there are fully mismatching colours between many different car body panels or difference in shade. If you have a chance to test drive the car, make a thorough observation. While driving, if you realised the car pulls to the side and unable to move straight, it is likely that the alignment is off or worse, the car has a bent chassis that is not possible to be properly aligned.
If you prefer professional help, you can send the used car for a pre-purchase inspection to the various car workshops in Singapore such as STA Inspection and Vicom.
Conclusion
We hope this checklist will ease your worries about purchasing a used car. If you have decided to make a purchase, do give The Car Regency a consideration. We offer loan packages on a flexible basis. Feel free to contact us if you have any further enquiries on used car purchase.